Albion Architectural Concrete: Precast Concrete and Cast Stone Manufacturers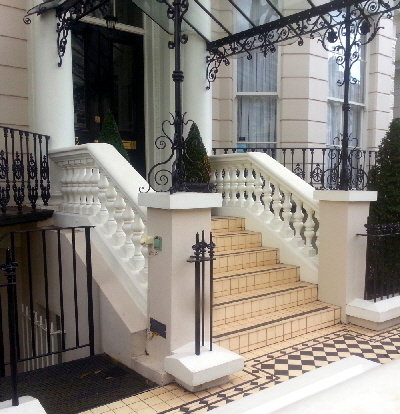 We specialise in architectural cast stone (artstone) and GRC (glass reinforced concrete) and manufacture:
Window Sills and Window Surrounds: we have a wide range of standard sills and surrounds to cover most eventialities but can match anything with our bespoke service.
Pier Caps: again we have a wide variety of sizes and styles to choose from or can work with you to create something unique, or to match existing caps.
Copings: single and double weathered, ogee or plain, hog's back or completely bespoke.
Balustrades and Balustrading Systems can be designed to suit your property. We have numerous styles and sizes that will suit almost any application or can match existing or work to your drawings.
Porticos and Columns can be tailored to suit any location.
Wine Racking: we have a comprehensive range of wine racking and have wide experience of designing and installing either in dedicated wine rooms, bars and restaurants or domestic settings.
Wine Cellars: Please contact us for more information and visit our sister company, The Stone Cellar Company Ltd, for information on Wine Cellars and Wine Storage Solutions.
Bespoke items are not a problem. We have our own in-house design service and many years experience in the manufacture of bespoke concrete and cast stone products, working either from your drawings/photographs or by visiting site and taking measurements. Whether it's a contemporary project or for restoration, we can supply exactly what you need. A small selection of examples are shown on our projects gallery or our latest project, concrete washbasins.
Please take the time to browse our concrete and cast stone products pages to see some of the standard products we can offer.
Albion Architectural Concrete

T: 01273-465678

E: info@albionart.co.uk